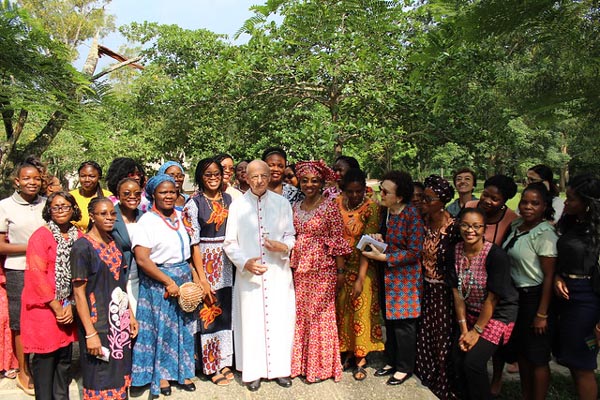 It's been a year since Msgr Fernando Ocariz, the Prelate of Opus Dei visited Nigeria. The Father, as we call him, was expected to arrive on the night of July 19, 2018. As that date drew nearer I couldn't contain my joy. Watching him in YouTube videos or reading his letters, homilies or interviews which, thanks to the Internet, are available online, is an experience that never fails to amaze. Every time I read or listen to him I find words that address me personally. Sometimes I get the impression the Father had me in mind when he wrote those words.

In reality it confirms the human and divine bonds that unite Opus Dei. The sense of filiation and fraternity are important aspects of the spirit of the Work. Soon after he was appointed Prelate he wrote, "My daughters and sons, if in this world, so beautiful and yet so tormented, anyone at any time feels alone, let them know that the Father is praying for them and accompanying them in the Communion of Saints, and that he carries them in his heart."

Even though was elected about a year earlier, the enthusiasm to see him is humanly and supernaturally reasonable. Which is why the thought of being with the Father for a week was exciting. No matter how hard the Internet tries to bridge distances nothing can be better than being with your father whose words are a great and constant source of encouragement.
But I had my worries. His schedule was tight, and even more worrisome, the surprises traffic in Lagos could throw up during his week-long visit, could only be imagined. July too was the peak of the rainy season which could disrupt his schedule and always compounds traffic jams. I'm convinced the prayers of all his children in Nigeria and elsewhere kept the rains away and prevented any major hold up.

The Father's stay was smoother and sunnier than I could possibly have imagined. Neither the schedule nor traffic unsettled the Father. His contagious serenity put to rest whatever worries I had. I could tell that the joy of being with his children surpassed the demands of the timetable and the tiring go slow (as snarled traffic in Lagos is also called).
Unlike the visit of Bishop Javier Echevarria, his predecessor, 19 years earlier, it was impossible to be physically present at most of the places the Father was meant to visit. I was a student then. Traffic was bad but we could travel out of Lagos to be with him in Ibadan, 133 kilometres north of Lagos. This time around I only attended the get-together at the Lagos Business School on 20th July and had dinner with him that same day. On both occasions I was lucky to be a few metres away from the Father.
This trip was also different for another reason. Then in 1999, the Internet was a novelty, today it's ubiquitous. Pictures of the Father's arrival were available long before I woke up. Being part of the media team that covered his visit thus gave me a virtual seat at all his gatherings. It was a privilege to read the advice he gave at these informal meetings. Each day for the duration of his visit the media team worked to put pictures and texts together that summarised the Father's day. It was tasking and rewarding.

On my two occasions with the Father, I sat close enough to see his calm demeanour and the serene look he gave when you spoke to him, in a crowd or a small group. That attention to others; a gaze that said, "I'm here to listen to you", together with the photographs and write ups from his numerous meetings, transmitted his serenity. All are etched on my memory.

"Hunters do not always kill grasscutters in every expedition nor do warriors win every battle", is a Yoruba saying that can be interpreted as, win some, lose some; remain undeterred; there'll always be another day. Rise up and give it another shot. This proverb, in my view, threads together all the Father said to us while in Nigeria last year.
Like the hunter or the warrior, every Christian too has a goal. For the Christian that ambition is personal sanctity, that daily struggle expressed in service, affection, apostolate. A goal which is humanly impossible but which supernatural means like the Eucharist and prayer make possible. Sometimes I will suffer defeats but I must never be unhappy. The certainty of God helps me recover my joy, rather than let sadness, which shrinks the impulse to love others, get the upper hand. Knowing God is with me, on my side, fills me with hope and thus I can begin again. This love of God, besides unifying everything: work, family, friends, long hours in traffic and so on, makes suffering redemptive.
In other words, what the Father kept telling us was, "the impossible is possible". This is my keepsake of the his visit.
A year after the Father's visit, I keep returning to these memories. While stuck in noisy, pothole or flood-induced traffic during my commutes or a barrage of demanding tasks I recall his calm composure throughout his stay as an example to imitate. It's as if he came to show how these daily challenges, which will always exist, are not an obstacle to a Christian. Rather they are the raw material for sanctity, as St Josemaria, the Founder of Opus Dei, taught. It is in these realities that one seeks, finds and loves Christ. I also remember that this what fathers do: give themselves, through their actions, their example.
By Tayo Fagbule