The Father began by sharing with the young men his reflections from the short pilgrimage he made that morning to Munyonyo Martyrs Shrine: what martyrdom means; to give witness of their faith. For those martyrs - even the youngest of them at 14 years old - it was worthwhile giving their lives to stay faithful to the purity of their lives. We too have to be holy, have to give witness... above all in our ordinary Christian lives - ... in our prayer, in our work, in our family, in our sports, in our rest, in everything.
Our holiness in ordinary life doesn't consist in becoming completely perfect, without defects, it means growing in love of God and in service of others... a service which includes as an important part, being apostles: transmitting with our work, with our life of friendship what we know, the formation we receive in the centres of Opus Dei. All that you receive in the means of formation (the meditations, the circles, the conversations, the talks) you also have to transmit with your life, with your word, and with your friendship. We don't have to be public preachers, we just have to have honest friendship with others.
The rest of the get-together were questions on varied topics. One of the university students in attendance from ISBAT University, Joshua, queried on how in a hyper-sexualised world, we can live that same holy purity the martyrs died for. Rodney sought advice on freedom, Jonah on optimism in apostolate and Suleiman on whether it is a problem to want to be rich.

To this last question, the Father responded: "It's not a problem to want to be rich, as long as in that desire you have a right intention. What for? Why do you want to be rich? ...Because wealth could be something good precisely to help many people. When one wants to be rich only for their egoism, in that case it is not good. Wealth is not bad... So to desire to be rich, to desire a business that creates wealth is something good, but let it not be for our egoism. Let it be for our family and for many people as well."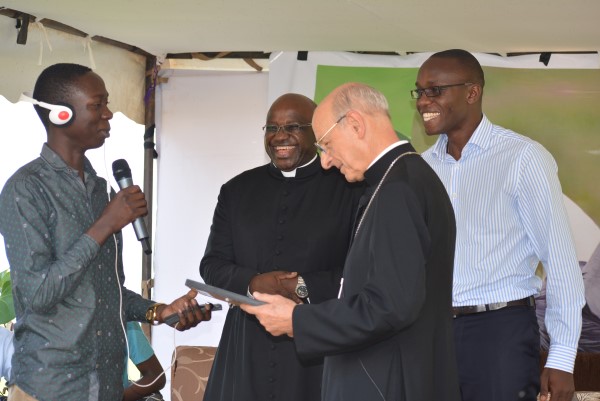 At the end of the get-together, the Father was gifted with a carving of some fishermen in a boat, and of a portrait.
Follow us on Twitter.