Being a homemaker for 12 years, I love my job. I meet a lot of fellow homemakers who share the same idea. There are also a number who would complain about it. I would offer them a listening ear and try my best to offer words of encouragement, but I wished there was something concrete that I could do to help them see that homemaking was the noblest job on earth: looking after one's family and home should be done with joy and pride. 
My sources of inspiration to be a homemaker are our Lady and my mum. My mother was a homemaker – she's always there for us when we were growing up. My siblings and I never had to have keys with us, because Mum was always at home waiting for us. We never came home to an empty house till I was 18 when my parents went on their first holiday. That says an awful lot about their spirit of sacrifice.  
When I became Catholic 22 years ago and met Opus Dei, I was very moved to hear St Josemaría's teachings dwell so much on our Lady's life as a homemaker and how she sanctified herself and others. Imagine, the greatest saint on earth didn't do anything spectacular: she just looked after her family very well, doing the ordinary things extraordinarily well! It is possible to be a housewife and to be a saint!  
A totally new horizon opened up for me. From my mum's example, I witnessed the human dimension of self giving. From our Lady's example – thanks to St Josemaría –I saw the supernatural dimension of giving myself to my loved ones and the people around me. In our society when being a housewife is a disdained and seen as a kind of "last resort" job because you have no other options outside the home, the spirit of Opus Dei – sanctity in the fulfilment of the ordinary duties of a Christian – reverses the negative connotations of being a full time housewife. It puts housework back to its rightful place: on the pedestal together with all honest and noble professions!  
HomeAdvantage Singapore 
So you can imagine my excitement when I heard about the HomeAdvantage Program! Here is a program that is very concrete, thorough and simple to run, and just perfect for the homemaker! This gives me an opportunity to improve my homemaking skills, help my friends and also meet more people. Bravo!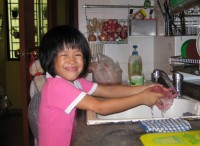 I gathered a group of neighbours, 5 stay-home mums like myself and introduced the program to them, and within the month we got going. HomeAdvantage Singapore was born in February 2008.  
From monthly meetings to more… 
We meet once a month and take turns to host the meeting. Over a year, our friendship has really grown. We organized lunches, potlucks, play dates for our children, outings, share recipes, baby-sit one another's children, share hand-me-downs from clothes to books to toys. On days when things are a little more difficult at home, it's uplifting to get a call from any one of them.  
Jeanne is an Indonesian neighbour with 3 young children aged 4 to 9. She joined us in the program a year ago. I met her when we were waiting for our children to be picked up by their school buses. A smile, a question of two about the kids, then naturally we got acquainted. She told me that the HomeAdvantage sessions have helped her.  
"From the others' experiences, I discover ways to improve the running of my household, to make it more efficient. Then, there is the social element as well. Being a housewife, the only adult I see everyday is my husband! I look forward to the HomeAdvantage meetings where I can meet fellow homemakers regularly and talk about my work. Over time, we have become good friends. And the beauty of it is that when we meet, we are discussing something meaningful: how to improve in our work, and ourselves." 
"If others can do it, it is possible for me too!" 
The effectiveness of the program really depends on the participants. HomeAdvantage lays out different aspects of homemaking. It is systematic, detailed and thorough. It is also very practical and easily applicable.  
Jialin is also another mother of three. She lectures part time at a polytechnic. She was very encouraged to try new techniques which were seemingly impossible before. 
"For instance, the chapter on "Clutter"; this is an angle I did not think of! I am inspired by the others' sharing. I hear how the others manage and I tell myself, if others can do it, it is possible for me too! The meetings are held in different homes, and just by visiting the others' homes, I see concrete aspects that I can improve in the way I run mine. Though HomeAdvantage, I have learned that homemaking is a profession in which I can make improvements – just like any other profession!" 
When the program started, there were three families with domestic help. Over the months, two mothers have decided to take up the housekeeping work themselves! Nancy, who is from Nanjing, has two daughters aged 10 and 6. Recently she has discontinued the services of her full time domestic helper. She noticed that they were getting reliant on their helper for everything. Two months have passed since and she is very happy that the girls now help out with the housework. In fact, 10 years old Kimberley, even has a time slot to help mum with housework in her daily schedule! 
Gillian has felt that what they learn from the program is real and practical, and enjoys the emotional support, "knowing that I am not alone facing the problems as the rest understand and also face similar problems". 
* * * * * * *
HomeAdvantage Plus, LLC is a corporation launched by Kathie Hunt in the US in late 1997 to provide educational resources and practical Information for creating a home that enhances the quality of life for individuals and families. 
For more information:
http://www.josemariaescriva.info/index.php?id_cat=2168&id_scat=766