Alone with my phone one night, I spotted a Facebook post that spoke to me: "Mom's night struggle -- to sleep or [to have] 'me time'?"
It was from "Mommy Richelle," and behind this social media-based blog is Richelle Balbieran, a mother of five.
Richelle is one always ready to provide help wherever and whenever needed. Amid the pandemic last year, teaming up with her husband, Ronnie, she set up the "Covid Backliners" project that sourced and channele food and medical supplies to hard-pressed health workers.
Her latest intervention is addressed to the "backliners" in the homes during this crisis - mothers!
From the Front to the Back Lines
Government and private sector support for the pandemic's frontliners have improved, but to date the end of the contagion is nowhere in sight. Millions are jobless or needing more work to make ends meet.

"The problem of the Philippines is high unemployment. Many are going hungry because parents have no work," Richelle observed. She decided to shift her focus to the home front.
Meanwhile, state officials on top of the country's pandemic response have called for private sector help to promote "mental health and social healing". The Inter-Agency Task Force on the Management of Infectious Diseases singled out those "who are undergoing depression due to loss of employment or livelihood, anxiety of being afflicted with or dying from the dreaded disease, loneliness from isolation and lack of hope for a return to their normal lives."
Richelle and her friends realized that there was a real need to support housewives and mothers, the unsung "backliners" of the economy, especially those who are hard hit by the pandemic.
Speaking their Language
Accustomed to dealing mostly with middle-class peers through social media, "why not focus on the poor during these times?" Richelle thought. That was the start of her new Facebook blog.

"I hoped to give them an avenue to earn, because many of the moms have husbands who lost their jobs… I provided a platform for them to advertise their sidelines," said Richelle, who has a background in economics and e-commerce.
"At first, they didn't notice me. I couldn't connect with anyone!"
Richelle learned the hard way that to appeal to an audience, one has to speak their language. "I got some [of my followers] to be my co-admins, and they eventually became my friends. I observed how they talked to each other."
She saw that what attracted these moms in social media was entertainment, similar to those in noontime TV variety shows. The task is to combine content and entertainment, which is a constant challenge. "I have to make use of my knowledge of economics, supply chain, e-commerce and — of course — dancing," said the bank consultant and licensed Zumba instructor.
"I post dance vids, for example with BTS, to catch their attention and then I try to segue to more serious content that can help them," Richelle said.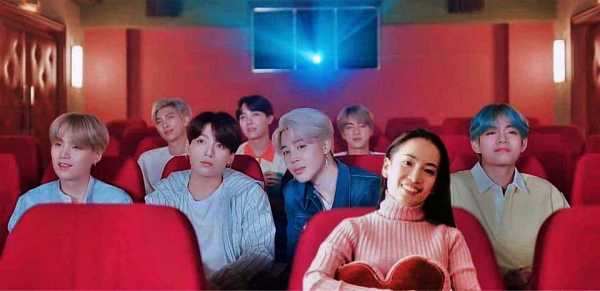 "I touch on topics related to the struggles of mothers, my own as well… and I end up learning a lot from their comments and engagements."
On the blog, she holds simple Q&A games based on the topics discussed. Winners get a cash prize of P20 or P50. "I cannot avoid that many ask me for money… So I tell them to join my games online and have a chance to win, or else I give them some task for which they can earn a cash prize," she said. "For cellphone load, the best comment wins!" according to one game. Everything comes from her pocket.
To cap the games and her posts for the week, Richelle leaves the moms with a weekend "food for thought": a positive note, a hopeful thought, or a message on faith.

"Mommy Richelle" now has 16,000 followers in her Facebook blog, mostly from less privileged families. 85% of them are mothers.
The Power of Positive Influence
Setting up a page is one thing, and keeping it going is another.

Whenever Richelle would miss out on her weekly posts, page members would look for her. "I would receive messages from them like, 'Mommy, are you okay? We miss your posts!'"
She soon realized the power and responsibility of having influence in an online community.
In the beginning, moms and housewives posted about their petty squabbles and complaints about others. Richelle replied to each comment, trying to keep things bright and positive in tone.
With time, the Q&A games, which were initially made to attract the audience's attention, started showing more insightful answers from the moms. Commenting on a post by Richelle about her family being her "triumph and treasure," the moms agreed that they, too, share the hope of seeing their children grow up with human virtues and faith in God. They also wished to cherish their spouse even when times get rough.
When Inspiration Strikes
Explaining how she writes and produces her blog posts, Richelle said "recreating" is key to the process.

She gets ideas for her posts from the Bible, spiritual readings, as well as meditations, podcasts and her activities in Opus Dei.
"When inspiration strikes -- for example, while I'm washing dishes -- I stop and take notes immediately. At night, I would ponder on how to translate it to layman's terms, or rather to the language of the mothers. I recreate it to make it applicable to the circumstances of the mommies," she said.
"I try to let the moms understand the importance of prayer. I do five posts a day, the first post is always about thanking God. Mid-morning and mid-afternoon posts are about mommy struggles: things about childrearing, about how a mother looks, etc. At night, I go back to God: 'Thank you for another long, hard, but happy day!'"
She found that going deeper into ideas about faith can be effective in Facebook communities, which have become cozy virtual venues for moms to find friends and share their thoughts. One post she wrote for the group was entitled "Buhay Ng Isang Ina" (Life of a Mother). There she talked about Saint Josemaria's message that one can pray anytime, anywhere: when alone, with family, or while working. She recreatively wrote: "Ang sagot sa tanong na kelan dapat nagdadasal? Parati. Libre na, may pabaon pa." (So what's the answer to the question of when to pray? Always. It's free, with freebies to boot.)
To posts like this, the moms would comment, and conversations would flow. With each engagement and each comment, friendship is formed and enriched -- even online.
From the blog's current complement of 16,000 followers, Richelle wants "to reach 20,000 by August, which is when my blog turns one year old."
"The followers keep me going. Sometimes I get tired, but they encourage me to post more and that's what keeps me going."