Knowing the love that St. Josemaria had for the poor whom he popularly called the "poor of our Lady", and his encouragement to get involved in alleviating poverty and destitution in people, we decided to raise funds after the June 26th Mass by selling barbecued chicken, pastries and drinks.

With the money raised, we would buy different items and visit some orphanage or a place in need. It was important for us that we get this done, considering that the Covid restrictions and lockdown had prevented us from making such visits to the poor in a long time.
The first hurdle was how to get money to buy the chicken, pastries and drinks. We then decided to put in our savings as capital, which would be refunded after a successful sale, while we will donate the profit to the poor.
Knowing that our little savings were at stake, we were resolute to ensure the fundraising went well. Luckily when some of our parents heard of our plans, they were impressed and generously supported our effort.
With the help of our tutors, arrangements were made for the purchase of the items and for the transfer of a barbeque stand.
On 26th of June, we converged at Whitesands School despite the rain and the allure of a sweet Saturday (rainy) morning sleep. As there were two Masses to be celebrated that day, we divided ourselves into two teams so that we could each participate at least in one of the Masses.
Before the end of each Mass, one of us made an announcement in the Chapel, the highlight of the announcement (which elicited some laughter) was the request that those buying should not request for their change.
The announcement worked, as after the Mass, people came to buy our goods. We went around inviting our family and friends to come patronize us. They did and enjoyed it. We offered them nice tasting chicken and the cool drinks. From the look on their faces and from their intention to buy more, we reasonably think they enjoyed it.
At about 4pm, we had sold all the chicken and drinks we came with. All we had left were a few bottles of water so we decided to call it a day and begin counting our chickens because they had indeed hatched. We had made a 100% profit.
Enthused by the experience of the day, some of us decided to donate their "little saving". Indeed, those little savings when given generously can cause ripple effects. The words of St. Josemaria ring true "A little act, done for Love, is worth so much"
Before leaving, we picked the surroundings, did some cleaning and left for Southcreek Centre for benediction and a very sweet game of football.
Apart from raising money to enable us visit the poor, we've learnt lot of things, we learnt how to budget, work in a team, delegate and most importantly marketing; we had to convince people why they had to part away with their money.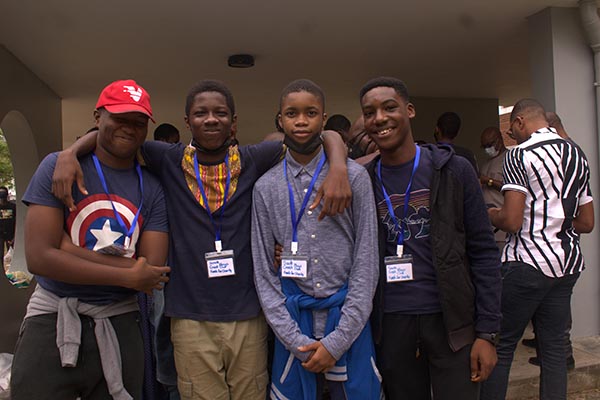 This is our first outing and we made a nice profit, depending on one's financial position, one can dismiss the funds raised as little or insignificant in helping the poor but we refuse to be discouraged as Mother Teresa said "if you can't feed a hundred, feed one".
Rather than get discouraged, this experience has taught us not only to think of the others but to have these fundraising sessions more frequently in order to support various laudable projects.
The coming days, we intend to meet and agree on the orphanage to visit, it will be another adventure.