Knit and crochet leading … to ear savers for masks!
Each Thursday morning since September my YARNS (You Are Really Necessary Seniors) Group has been meeting to knit and crochet. One of our projects has been to make hats and blankets for preemies in the neonatal intensive care unit (NICU). We have a great time chatting as we work sharing many stories of our lives. Sometimes we watch a TED talk or some other video while we work.
We thought out time together had come to an end when the pandemic isolation began. But thanks to Zoom meetings, we have continued to meet and work on our creations each week. A few of our members do not have Internet so we have reached out to them by phone, but mostly we are all together each Thursday. We continue to work and chat, sharing our experiences of what we have learned during this quarantine, for example where is the easiest place or way to get groceries.
We have answered a call from our local hospitals and nursing homes to help make Ear Savers for the front-line workers who need to wear a Mask each day. The elastics on the masks can rub the ears and cause sores and burns so one option is to have somewhere else that the elastics can attach and still keep the mask in place A little crocheted piece with a button and each end has been found to be useful. So, we are all working hard to help meet the demand for our region. And we still get to chat as we work.
There has been a shortage of buttons so one of the husbands who has all the special equipment needed has been able to drill holes in old pennies, which have all been specially cleaned, and turn them in to useable buttons. Out little project is becoming a family affair as many of the children are working away on the ear savers too.
Remembering they do have friends!
Throughout Holy Week I called many of our friends who support PEV to wish them a Happy Easter. That was a very joyous event. Every single woman I was in touch with was very touched by the fact that we called her.
Some were all alone in their homes and though they had helpers in the community, they loved the fact that someone else cared to reach out to them.
Some were front line workers and told me about all the hope they were seeing.
Others had family members in need of prayer and were happy to have contact with someone they could ask to pray for their loved ones.
All were surprisingly happy to see that we cared enough to reach out to them and wish them a Happy Easter in this time of a vastly different Easter.
Initiative of the mayor: Ambassadors in our Community
In the small town where I live, Newmarket, Ontario, our community has always been supportive of my local initiatives. For many years, the town gave us a meeting room free of charge for our girls club to meet in. The town is very family oriented and has many free events for families throughout the year.
Our mayor, a father of a young family himself, was concerned when he saw what was happening as the pandemic began. He was quick to respond by forming a committee of people to be Community Positivity Ambassadors (CPA), who are to spread positive messages across social media hash tagging it with #StandApartTogether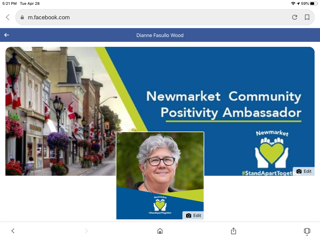 Having been appointed a CPA, I have been having a wonderful time meeting new people. Many I have wanted to meet over the years but have not had the opportunity. Through social media working together, we lift the spirits of our community by using social media to uplift the community and put #StandApartTogether in our posts.
In each post we:
Share articles, videos, memes that offer perspective on the current crisis e.g. how to improve your mental wellbeing, how to help others, or lighten the mood
Share stories of fellow residents, businesses, non-profits or town staff going well beyond the ordinary during the state of emergency. This could be:

People going out of their way to help others
People going the extra mile to thank people
Positive messages written around town
Clever ways people are staying connected while social distancing

Create conversations on our posts and encourage others to join the movement by sharing stories and spreading positivity too!
Every week the mayor adds 10 new people to our group where we have more people to work with and get to know. We spread positive articles, positive memes and humour, stories, things we see happening around town such as positive signs or displays children have made, anything positive that may raise the hope of those in our community who are suffering.
The local paper published the following interview that gave me a good opportunity to give more coverage to PEV where I am a volunteer.
Being a CPA has been a fun, learning experience which has practically made all this isolation enjoyable… for me and many more people.
---
Help us enrich this section by sharing your story during this time of family quarantine by sending us the text and your photos to the following address opusdeipressca@gmail.com
---