LATEST
► Audio Meditation of the Prelate: Christ, Mirror of our Weakness
► Make a Virtual Visit to 7 Churches #StayHome: Many Catholics around the world visit seven churches after Mass on Holy Thursday. This year we have a unique opportunity to travel much farther virtually, accompanying Jesus through spiritual visits to churches around the world.

► Holy Week: "He Loved Them to the End": At the heart of the Liturgical year lies the Paschal Mystery, the Triduum of our Lord's Crucifixion, Death and Resurrection. The whole history of salvation revolves around these holy days.
► April Recollection Kit #StayHome: As we live Holy Week against the backdrop of a global plague, this guide for a "recollection-at-home" will help you spend an hour or two in loving conversation with God, right where you are.

► Audio Meditation of the Prelate: The New Commandment

► Audio Meditation of the Prelate: United in the Last Supper
---
FOLLOW THE POPE
► Want to follow the Pope's Holy Week services from your home?

Pope Francis will celebrate all of the Holy Week Rites in St. Peter's Basilica, without the presence of the faithful, starting with Palm Sunday at 11 AM (Rome time) on Sunday, April 5th.
The rest of the Holy Week services are as follows (all times Rome time):
—9 April 2020 @ 6 PM: Holy Thursday Mass of the Lord's Supper
—10 April 2020 @ 6 PM: Good Friday Celebration of the Lord's Passion
—10 April 2020 @ 9 PM: Via Crucis (in St. Peter's Square)

—11 April 2020 @ 9 PM: Easter Vigil Mass
—12 April 2020 @ 11 AM: Easter Sunday Mass; "Urbi et Orbi" to follow.
You can follow all of these services here, or on alternative channels:
► FULL TEXT of Pope Francis' "Urbi et Orbi" Meditation
► This link is updated every week with the Pope's general audience on Wednesdays.
► At this link, you can always access the following (all times Rome time): the live-stream of the Pope's morning Mass at Casa Santa Marta (every morning at 7 AM); the Pope's general audience (every Wednesday at 9.30 AM); and the Angelus (every Sunday at 12 noon).
► Latest updates about the Pope.
---
MESSAGES FROM THE PRELATE
► Letter from the Prelate (April 1st): With Holy Week only a few days away and amid so much suffering, Mons. Ocáriz invites us to look at Christ on the Cross, who is the source of our hope.

► A message of encouragement from Mons. Fernando Ocáriz in light of the pandemic.
► In this message, the Prelate invites us to have recourse to the intercession of Saint Joseph on the occasion of his feastday.
HOLY MASS

► Here are some links to online Masses which may be useful while there are no public Masses in churches.

► 6 tips for living the Mass better under the present circumstances.
► A reflection on the spiritual communion that Saint Josemaría often prayed.

UNDER EXTRAORDINARY CIRCUMSTANCES
► Many are having difficulty accessing the sacraments. Here is an article to help you work through this situation: Confession: a God Who Runs to Meet Us.
► Note from the Apostolic Penitentiary on Confession about the gravity of the present circumstances.
► Decree of the Apostolic Penitentiary on the possibility of special indulgences to the faithful in the current pandemic.
► What is a Plenary Indulgence? #Covid-19

---
ACCOMPANY THE SICK
► Prayers to Pray with the Sick: A free booklet that provides helpful reading and prayers for family and caregivers of those who are dying or gravely ill.

► This Novena for the Sick is a way to pray with Saint Josemaría for all those who are suffering illness.
► Caring for the Elderly When They Need It Most: Reflections about taking care of people who are transitioning from independence to assisted living, either at home or in a facility.

► Ideas from Pope Francis about caring for the sick in our families.
INSPIRATION FOR MAKING GOOD USE OF TIME
► 10 Tips for Facing Quarantine
► St. Josemaria: Tips For Getting Along: Maintaining family peace is not always easy if you have to spend 24-hours under the same roof. Here's some food for thought from the "saint of ordinary life".
► Ideas for supporting one another and maintaining friendships at a distance.
► Five Remedies Against Sadness. We have all been sad at one point. Is there a trick for overcoming sorrow and recovering our smile?

► Snow-covered Volcanos: Did you know Saint Josemaria spent months in forced confinement during the Spanish Civil War?

► Podcast for young people: Listen to fellow peers who are finding ways to take advantage of this period in the best possible way. Tune in now to Corona: Use it, Don't Lose it.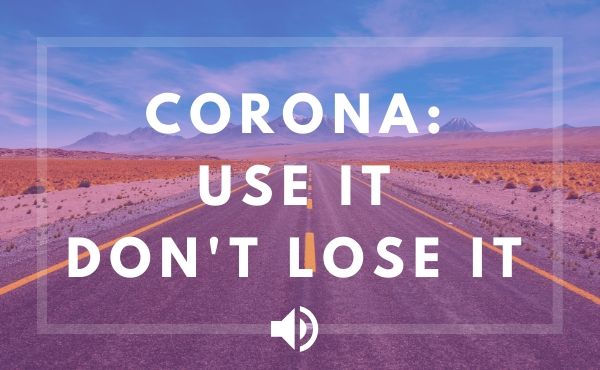 ---
AUDIO MEDITATIONS
► A selection of meditations by different priests of Opus Dei to "inflame" your prayer, wherever you are.
Most recent:
Other meditations:

Looking for shorter options?
► 10 Minutes with Jesus: Daily podcast reflections to inspire your prayer.
GOSPEL COMMENTARIES
► Here you can read a commentary on Sunday's Gospel.
---