1. What are the works of mercy?
The woks of mercy are charitable actions by which we come to the aid of our neighbor in his spiritual and bodily necessities. Instructing, advising, consoling, comforting, are spiritual works of mercy, as are forgiving and bearing wrongs patiently. The corporal works of mercy consist especially in feeding the hungry, sheltering the homeless, clothing the naked, visiting the sick and imprisoned, and burying the dead. Among these, giving alms to the poor is one of the chief witnesses in fraternal charity; it is also a work of justice pleasing to God (Catechism of the Catholic Church 2447)
My deep desire is that the Christian people reflect during the Jubilee about the corporal and spiritual Works of mercy. It will be a way of awaken in our conscience, often lethargic before the drama of poverty, and so to enter even more into the heart of the Gospel, where the poor are privileged subjects of the divine mercy.
Jesus' preaching presents to us these works of mercy so that we see whether we are living as his disciples or not. Let us rediscover the corporal works of mercy: feeding the hungry, giving a drink to the thirsty, clothing the naked, welcoming the foreigner, assisting the sick, visiting the imprisoned, burying the dead. And let us not forget the spiritual works of mercy: giving advice to the person who needs it, teaching the ignorant, correcting the one who is in error, consoling the person who is sad, forgiving offences, bearing with patience those who bother us, begging God for the living and the dead. (Pope Francis, Bull Misericordiae Vultus)
2. Which are the Works of mercy?
There are fourteen works of mercy: seven corporal and seven spiritual
The corporal works of mercy:
1. Visiting the sick
2. Feeding the hungry
3. Giving drink to the thirsty
4. Sheltering the pilgrim
5. Clothing the naked
6. Visiting the imprisoned
7. Burying the dead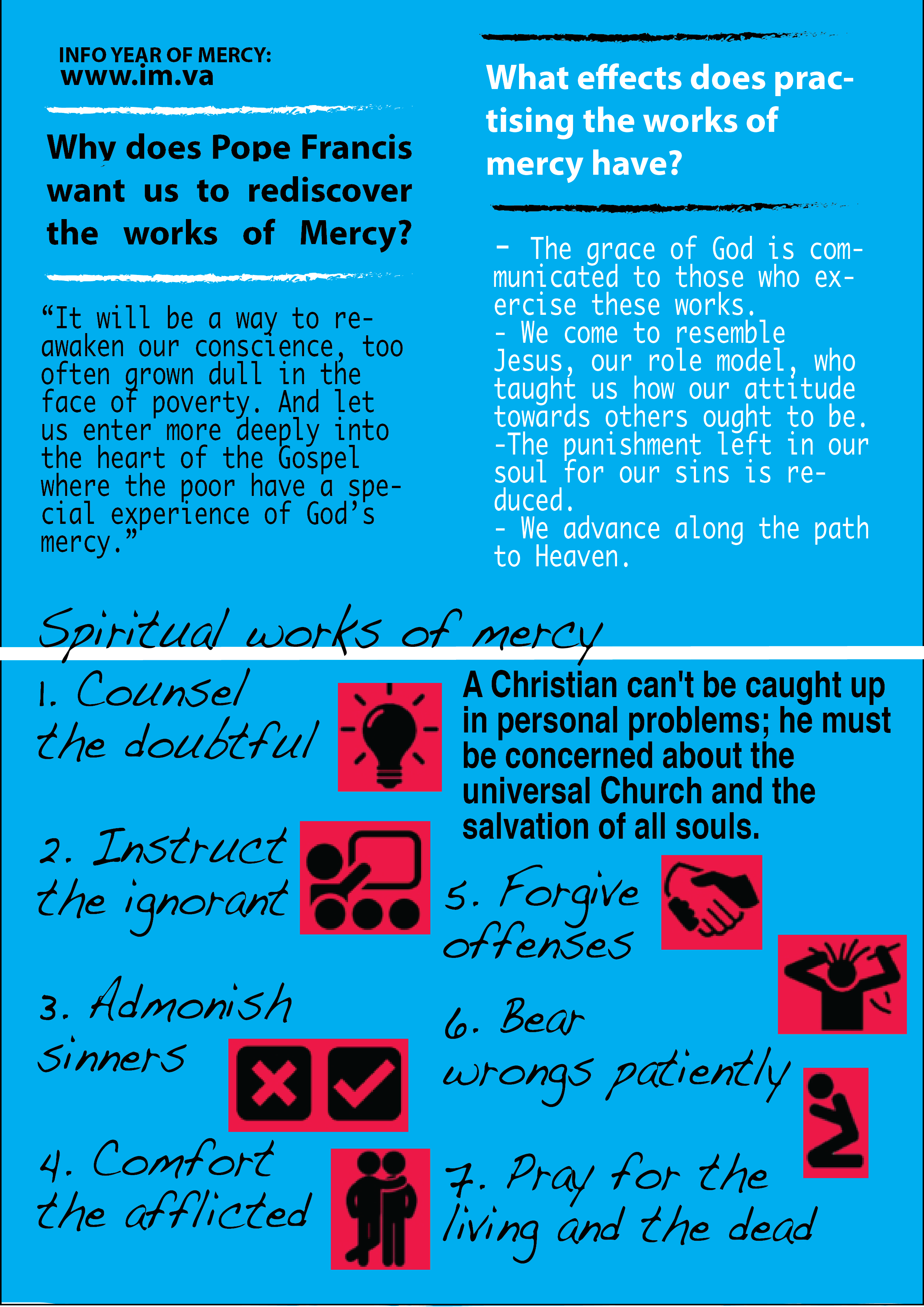 The spiritual works of mercy:
1. Teaching the ignorant
2. Giving good advice to the person who needs it
3. Correcting the one in error
4. Forgiving the person who offends us
5. Consoling the person who is sad
6. Bearing with patience the defects of others
7. Praying to God for the living and the dead
Most of the corporal works of mercy come from a list made by Jesus when he described the last Judgment. The Church has taken the list of the spiritual works of mercy from different Bible texts and from Christ's attitudes and teachings, such as forgiveness, fraternal correction, consolation, bearing suffering, etc.
3. What effect the Works of mercy have in the person who practices them?
Practicing the works of mercy communicates graces to the person doing them. Jesus says in the gospel of Luke: "give and you will receive." Therefore, when we practice the works of mercy we are doing the will of God, we give something of ours to others, and Our Lord promises that he will also give us what we need.
On the other hand, by doing good works, we erase the punishment that remains in our soul due to the sins. Certainly, these good works are the works of mercy. "Blessed are the merciful because they will receive mercy" (Mt 5, 7) is one of the Beatitudes.
Moreover, the works of mercy help us to progress in the way to heaven, because they make us like Jesus, our model, who taught us how we should treat others. Christ words were: "do not store up treasures for yourselves on earth, where moth and woodworm destroy them and thieves can break and steal; but store up treasures for yourselves in heaven, where neither moth nor woodworm destroys them and thieves cannot break and steal. For where your treasure is, there will your heart be too." (Mt 6, 19 – 21)
When we follow this teaching of the Lord we change temporal goods for eternal ones, which are the ones really worthwhile.
*****
The corporal Works of mercy: a brief explanation
Saint Matthew relates what will happen in the last Judgment (Mt 25, 31 – 46). At that time Jesus told his disciples: "When the Son of Man comes in his glory, escorted by all the angels, he will take his seat on his throne of glory. All nations will be assembled before him and he will separate people one from another as the shepherd separates sheep from goats. He will place the sheep on his right hand and the goats on his left. Then the king will say to those on his right hand. Come you whom my Father has blessed, take as your heritage the kingdom prepared for you since the foundation of the world. For I was hungry and you gave me food, I was thirsty and you gave me drink, I was a stranger and you made me welcome, lacking clothes and you clothed me, sick and you visited me, in prison and you came to see me. Then the upright will say to him in reply: Lord, when did we see you hungry and feed you, or thirsty and give you drink?
When did we see you a stranger and make you welcome, lacking clothes and clothed you? When did we find you sick or in prison and go to see you? And the king will answer: I tell you solemnly, in so far as you did this to one of the least of these brothers of mine, you did it to me.
Next he will say to those on his left hand, Go away from me, with your curse upon you, to the eternal fire prepared for the devil and his angels. For I was hungry and you never gave me food; I was thirsty and you never gave me anything to drink; I was a stranger and you never made me welcome, naked and you never clothed me, sick and in prison and you never visited me. Then it will be their turn to ask, Lord, when did we see you hungry or thirsty, a stranger or naked, sick or in prison, and did not come to our help? The he will answer, I tell you solemnly, in so far as you neglected to do this to one of the last of these, you neglected to do it to me. And they will go away to eternal punishment, and the virtuous to eternal life."
1. Give food to the hungry and 2. drink to the thirsty
These first works are complemented and refer to the help we should provide to the needy and those who don't have enough to eat each day, with food and other goods.
As it is related in the gospel of Saint Luke, Jesus recommends: "anyone who has two tunics must share with the one who has none; and anyone with something to eat must do the same" (Lk 3, 11)
3. Giving shelter to the pilgrim
In ancient times giving shelter to travelers was a matter of life or death because trips were complicated and dangerous, unlike what happens today. However, it may happen that we may have to welcome someone in our house, not just out of friendly or family hospitality, but because of a real need.
4. Clothing the naked
This work of mercy is aimed at solving a basic need: clothing. This is often made easy for us by clothing collections organized by the parishes and other institutions. When giving out clothes it is good to think of either clothes we don't need or use, of those we need.
In his letter Saint James encourages us to be generous: "If one of the brothers or one of the sisters is in need of clothes and has not enough food to live on, and one of you says to them, I wish you well; keep yourself warm and eat plenty, without giving them these bare necessities of life, then what good is that?" (Jm, 2, 15 – 16 )
5. Visit the sick
This involves true care given to the sick and elderly, both physical and accompanying them for a while. The best example about it is the one of the Good Samaritan who cured the wounded person and, when was unable to keep looking after him, entrusted his care to other people and offered to pay for it. (see Lk 10: 30 – 37)
6. Visit the prisoner
This involves visiting prisoners and offering them both material and spiritual assistance that can help them improve as persons, change their lives, learn some skills or do studies which could be useful to them when their finish their sentence.
It also means to rescue the innocent and kidnapped ones. In older times, Christians used to pay so as to free slaves or they offered themselves in exchange for innocent prisoners.
7. Bury the dead
Christ had no place where to rest. A friend of his, Joseph of Arimathea, lent him his tomb. Moreover, he was brave enough to go to Pilate and ask for the body of Jesus. Nicodemus also took part and helped to bury Jesus (Jn 19, 38 – 42)
To bury the dead looks like a superfluous command, but, as a matter of fact, everyone is buried. In times of war it can be a very demanding command. Why is it important to give a decent burial to the human body? Because the human body has been made the dwelling of the Holy Spirit. We are "temples of the Holy Spirit." (1 Cor 6, 19)
The spiritual Works of mercy: a brief explanation
1. Teach the ignorant
This means to teach the ignorant in any field, also about religious matters. The teaching can be by word of mouth or in writing, through any means of communication or face to face. As the book of Daniel says: "those who have instructed many in virtue, will shine as bright as stars for all eternity." (Dn, 12, 3b)
2. Giving good advice to the one who needs it
One of the gifts of the Holy Spirit is the gift of counsel. Therefore, the person who wants to provide good advice should first be himself in syntony with God, because it is not a matter of giving personal opinions but of giving good advice to the person who needs guidance.
3. Correcting the one who is in error
This work of mercy refers mostly to sin. It can also be phrased as correcting the sinner. Jesus explains fraternal correction in the gospel of Matthew: "If your brother does something wrong, go and have it out with him alone, between your two selves. If he listens to you, you have won back your brother." (Mt 18, 15 – 17)
We should correct our neighbor with meekness and humility. Often it will be difficult to do so, but it is then when we can remember what the Apostle James said at the end of his letter: "anyone who can bring back a sinner from the wrong way that he has taken will be saving a soul from death and covering up a great number of sins (Jm 5, 20)
4. Forgiving offences
In the Our Father we say: "forgive us our trespasses as we forgive those who trespass against us" and the Lord himself clarifies: "if you forgive others their failings, your heavenly Father will forgive you yours; buti f you do not forgive others, your Father will not forgive your failings either" (Mt 6, 14 – 15). Forgiving offences means to overcome revenge and resentment. It means treating amiably those who have offended us.
The best example of forgiveness in the Old Testament is the one of Joseph, who forgave his brothers having tried to kill him and later sell him. "But now, do not grieve, do not reproach yourselves for having sold me here, since God sent me before you to preserve your lives" (Gen 45, 5)
And the greatest forgiveness in the New Testament is the one of Christ on the Cross, who teaches us that we should forgive everything and always. "Father, forgive them because they do not know what they are doing (Lk 23, 34)
5. Consoling the one who is sad
Consoling the sad person or the one undergoing some difficulty is another spiritual work of mercy. It will often be accompanied by a good piece of advice that can help overcome that situation of pain or sadness. When we accompany our brothers at all times, above all in the most difficult times, we put into practice what Jesus did when he had pity on the pain of others. One example of this is what Saint Luke tells about the resurrection of the son of the widow of Naim: "When he was near the gate of the town it happened that a dead man was being carried out for burial, the only son of his mother, and she was a widow. And a considerable number of the townspeople were with her. When the Lord saw her he felt sorry for her. Do not cry, he said. Then he went up and put his hand on the bier and the bearers stood still, and he said: Young man, I tell you to get up. And the dead man sat up and began to talk, and Jesus gave him to his mother." (Lk 7, 11 – 16)
6. Bear patiently the defects of others
Patience before the defects of others is a virtue and a work of mercy. However, there is a very useful piece of advice: when bearing those defects can cause harm rather than good, an admonishment should be made with a lot of charity and affection.
7. Pray for the living and the dead
Saint Paul recommends to pray for everyone, with no distinction, also for government authorities and people occupying positions of responsibility, because "he wants everyone to be saved and reach full knowledge of the truth" (see 1 Tim, 2 – 3)
The dead who are in Purgatory rely on our prayers. It is a good thing to pray for the dead so that they might be released from their sin (see Mac 12, 46)