Two years ago, on 31st January, consultants and residents in the Department of Neurological Sciences, in the College of Medicine, at Ibadan, battled to save the life of their colleague. Dr. Ambrose Omhoudu Anegbe, a Senior Registrar, had been rushed to the University College Hospital (UCH) after he had collapsed while having lunch at home.
Born on 1st October, 1979, Ambrose was the fourth of the eight children of Mr and Mrs Anegbe. His family was from Iviebua, Etsako-East, in Edo State but he grew up in Lagos where he attended the Local Authority Primary School, Ajegunle, from 1986 to 1991. That same year he proceeded to the Boys Model Secondary School, Evboneka, Benin City, where he became the Senior Prefect. He gained admission into the University of Ibadan in 1999 to study physiology. Having obtained a first class CGPA in his first year he was able to change his course to Medicine and Surgery
As a young medical student he came into contact with Opus Dei and attended the activities at Irawo University Centre. On 15th October, 2000, in answer to God's call to seek holiness in his professional work he became a numerary member of Opus Dei and from then on committed himself to a life of apostolic celibacy in the middle of the world. By the time he was doing his Neurosurgery Residence programme he was also studying for an M.Sc. in Surgery. He passed the Part I Examination of the West African College of Surgeons (FWACS) at the first attempt in April 2015 and was promoted to the rank of Senior Registrar.
"Warm, understanding and caring"
Ambrose was known for his cheerful and serene demeanor. It was not that he never got angry but that he had such an infectious serenity. Dr. Austin Uzoma recalled the following about him:
"I happened to work with him as a house officer in the department of surgery, in UCH Ibadan. I saw him carry out little tasks rather passionately and exceedingly well - such tasks as establishing intravenous access or dressing patients' wounds - even though it did not seem to be necessarily his obligation to do them. I remember his colleague thanking him for always 'clearing the ground' and making life easier for everyone. He only smiled and 'bounced', as it were, to the next task. (Yes! We liked his cool gait when we had time to observe it!) . He was really good and gentle with people, often cooperation in what was good. I remember having told him about my need to attend Sunday Mass as I hadn't been able to attend for some weeks due to my weekend calls. I saw the light in his eyes and the innocence of his heart's love for God as he offered to cover for me till I got back. I can never forget that!"
"Always composed, calm and smiling"
Ambrose worked intensely and without complaining. He was passionate about neuro-surgery and "rendered selfless services in the discharge of his duties. He was a cheerful and diligent member of staff", wrote the hospital management in a condolence letter about him. This trait was confirmed by his colleague, a resident doctor, Saiki Orinami Benjamin: "We will not forget your calm smile, your dedication to duty, your love for humanity and, above all, your love for God. You dedicated your life to Service. You worked without complaining. Many described you as the best Resident they had ever come across".
The late neurosurgeon loved his profession because he was living what he had learnt from the teaching of St Josemaria: that professional work done out of love for God is the means of holiness. Ambrose's radiant personality was firmly rooted in his faith in God. He had spent sixteen years of his life in complete dedication to Him, continually struggling to live close to his Love and he was the first Nigerian numerary to be called back to Him.
Dr. Babafunmito Adebowale met him in Irawo and remembers that Ambrose played a great role in his formation. "If there is ever anything I got from meeting him, it's that you BECOME a doctor: sure you can know all the medicine you want but you need also to be the person the patient wants to see: warm, understanding and caring. That was the aura he presented every day I saw him."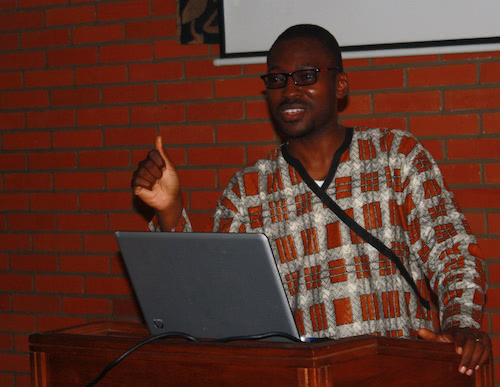 "What more can you ask of the resident doctor?"
Dr. Mudasiru Adebayo Salami, cardiothoracic surgeon at UCH, wrote that Ambrose "displayed how a doctor should be – caring under stress yet smiling, personally challenged yet selfless, encumbered with unrelenting demands yet cheerful. Your colleagues, medical students, nurses and all other health workers attest to your uncommon passion for excellence, dedication to duty (even coming towork on the day of your passing on) and unrivalled selflessness – daring to love your neighbours more than yourself. What more can we ask of a resident doctor?"
Ambrose was a friend to his friends whom he drew closer to God. The following testimony by Dr. Olobunmi Olorunda illustrates the finesse of Ambrose's soul: "I was very anxiously waiting for the result of an exam and I asked Ambrose: 'Is it worthwhile praying for an exam after I have already taken it?' Without hesitation he responded: 'Of course!' and I stared at him, really wondering how anyone could be so optimistic without having a false illusion about reality; but he went on, without pausing to think about his response: 'This is because God exists out of time. It doesn't matter WHEN we speak to Him'. I was so awestruck by this and of course decided to make use of this 'opportunity' he had shown me and, needless to say, I passed. I was also very taken by the finality and naturalness with which he said it. He felt no need to dwell on this; our conversation went on to another topic but nothing more was on my mind!"
Ambrose had been "on call" the day before his death. Upon his return home, as usual he went to the Chapel to spend time in prayer before Jesus in the Tabernacle. Later that day he attended Mass and received Holy Communion. Afterwards he went to UCH to inspect his laboratory rats. It was on his return from there while having lunch with his family (other numerary members of Opus Dei) that he collapsed. The priest gave him general absolution while a doctor, another brother of his, tried to resuscitate him on the way to UCH. God called Ambrose to Himself that Sunday evening of 31st January, 2016 .