The formation offered in Opus Dei is also addressed to young people, so that "they may be, now and for the rest of their lives, Christian leaven in families, jobs, and the whole of the immense field of human life in the middle of the world."
My dear children: may Jesus watch over my daughters and sons for me!
The upcoming Synod of Bishops on young people and vocational discernment moves me, with these lines, to invite you to renew your dedication to the work of Saint Raphael. As Saint Josemaria used to say, for all of us this apostolic work should be "the apple of our eye," since the Christian formation of young people is ...
Homily of Monsignor Fernando Ocáriz at the Mass celebrated for the liturgical feast of Blessed Alvaro del Portillo, in Rome.
Monsignor Fernando Ocáriz gave the closing address at the conference for over 400 Church communicators held at the Pontifical University of Santa Croce in Rome, from 17-19 April.
"Let us receive the light He wants to give us and share it with those around us." Homily of Monsignor Fernando Ocáriz at the Easter Vigil in Our Lady of Peace on 31 March 2018.
An interview with the Prelate of Opus Dei, who is Chancellor of Strathmore University in Kenya, that was published for the 10th anniversary of the University's charter.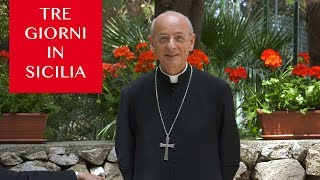 From May 31st to June 3rd, Monsignor Fernando Ocáriz made a pastoral visit to Sicily. In Palermo, he greeted members of Opus Dei and their friends.
On Saturday May 26, at 10 am, the Holy Father received Monsignor Fernando Ocáriz, Prelate of Opus Dei, in an audience.
In Memory of Bishop Javier Echevarría (1932 - 2016)
Bishop Echevarria served as head of Opus Dei from 1994-2016. He worked closely with St. Josemaria Escriva as his secretary from 1953 until the founder's death in 1975.
In 1975, Alvaro del Portillo succeeded St. Josemaría Escrivá as head of Opus Dei, carrying on his work with fidelity and dedication.
Opus Dei is governed by a Prelate, in accord with canon law and its own statutes. (Click on title above for fuller explanation.)