Saint Josemaria was born on January 9, 1902. Here are four videos about his life and teachings.
For Saint Josemaria's birthday on January 9, we offer some excerpts from an article published by "Real Clear Religion" entitled "The Tweetable Saint."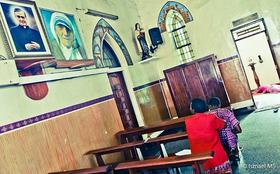 A new video of Saint Josemaria offers 44 brief clips from his oral preaching between 1972 and 1975 in Europe and Latin America. It can be downloaded or purchased from Beta films with English subtitles.
When a person really lives charity, there is no time left for self seeking. There is no room left for pride. We will not find occasion for anything but service! (The Forge, 683)
Try to remember what a donkey is like — now that so few of them are left. Not an old, stubborn, vicious one that would give you a kick when you least expected, but a young one with his ears up like antennae. He lives on a meagre diet, is hardworking and has a quick, cheerful trot. There are hundreds of animals more beautiful, more deft and strong. But it was a donkey Christ chose when he presented himself to the people as king in response to their acclamation. For Jesus has no time for...

"God is not removing you from your environment. He is not taking you away from the world, or from your condition in life, or from your noble human ambitions, or from your professional work ... But he wants you to be a saint - right there!"
SAINT JOSEMARÍA

, Founder of Opus Dei