St Josemaria had a lot of devotion to Our Lady of Montserrat. Records exist of frequent visits made by him to the shrine of Our Lady of Montserrat in Barcelona, Spain, during the 1940s, especially towards the end of 1946, the year when he moved to Rome.
Despite the move, his love for the Blessed Virgin Mary under this advocation continued throughout his life. And it was on the feast of Our Lady of Montserrat, 27 April 1954, that he was cured of diabetes, after a very severe attack which brought him to the point of death. The story is told by Jose Miguel Cejas in his book Josemaría Escrivá, un hombre, un camino y un mensaje ("Josemaria Escriva, a man, a way and a message"):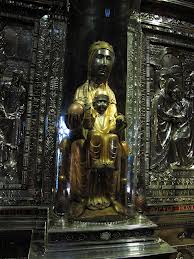 April 27, 1954, and life was going on as usual in Villa Tevere, the headquarters of the Opus Dei prelature in Rome. It was the feast of Our Lady of Montserrat, an ordinary day, filled with prayer and work in the warm Italian springtime. Recently Escriva's diabetes had intensified. Every week he went for a blood test and the results were progressively worse, in spite of a strict diet and the high doses of insulin he was given daily.
Escriva did not lose his peace of mind over this: God led him along paths of abandonment, humility, simplicity, and trust. That day, following the doctor's instructions, at ten to one in the afternoon, Alvaro del Portillo had given him an injection with a new prescription of delayed-action insulin. Afterwards they went down to the dining-room.
Escriva sat down at table and suffered a physical collapse. He realized that he could be about to die and his instant reaction was to ask for absolution.
"Alvaro, give me absolution."
"But, Father, what are you saying?"
"Absolution!"
As Fr Del Portillo was too surprised to do anything, Escriva began the words for him, "Ego te absolvo – " and fell unconscious on the floor.
It was an anaphylactic shock. Del Portillo gave him absolution, put some sugar in his mouth and made him swallow it, dashed water in his face and moved his head and limbs, and quickly summoned a doctor. Some minutes later, Escriva slowly began to come round, though he found that he could not see anything.
The doctor was astonished, since these types of insulin reaction are normally fatal. However, after some hours Escriva felt better, and recovered his sight again. From that day on, his diabetes was cured. It had been a caress from his Heavenly Mother, on the feast of Our Lady of Montserrat.